UPCOMING EVENTS:
During the Coronavirus pandemic stay-at-home order, the Evergreen Camera Club will be holding meeting online, check the list below. The Evergreen Fire Department where we host our meetings has closed the facility for the time being.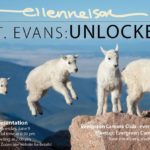 A lot is up in the air with Mt. Evans! What's up with entry reservations? A possible name change? Find out as Denver's closest fourteener is set to open on June 4th after a year-long COVID closure. Join Ellen Nelson to discover the new reservation system, its overlooked approaches, hidden gems, wildlife, controversy, current events ...
Links to zoom presentation recordings and other information presented in past meetings are in the postings under Meetings/Events.
Mark your calendar for our general meeting on the 2nd Wednesday of every month, and Tips & Techniques meetings on the 4th Wednesday of many months – check back here for updates and details!