August 14th General Meeting:
TAMMY HAMMOND — PSA REVEALED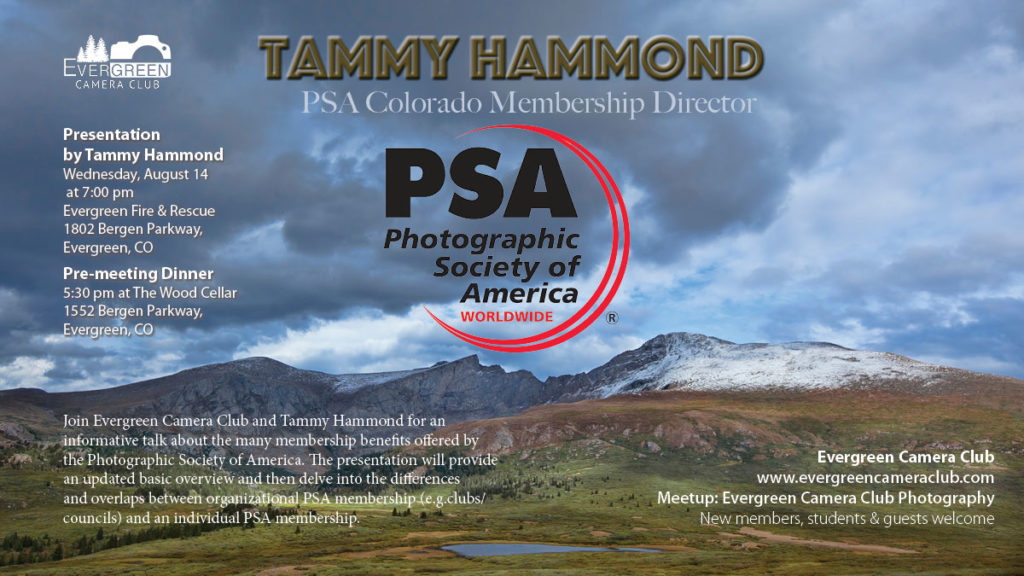 Meeting Report:
by Tom Goldberg
In her presentation, Tammy talked about the PSA organization and her role in the Colorado area. She also explained PSA policies and regional and club benefits. ECC members had a number of questions about the PSA competitions and Tammy passed those on to PSA – here is what they said:
1. Interclub competition entries: Why does the PSA request a file size smaller than a standard 1920×1080 (standard HD resolution of 1080px)?
1400×1050 is the size that PSA has sort of standardized on. The reason is it is a direct multiplier of the old 1024×768, and 1920×1080 is not. If you scale up to 1080, the dimension for both is not easily remembered (1440×1080). 1920×1080 does not fit with most camera formats, and actually favors someone doing a panorama. If you use 1920×1080, most of the time, the height is the determining factor for most camera images.
2. What is the viewing medium used for judging and how are judges able to judge for quality if the resolution is smaller than the viewing medium?
All judging venues should be done on an HD tv, a quality monitor, or HD projector as minimum quality these days. There may still be a few 1024×768 projectors being used, but I believe their days are numbered. (If they are, the images are automatically scaled down.) For this season, I am having all interclubs adopt the wording used for the Host club guidelines, which are these: "For optimum viewing using a projector, the judges should be viewing from 2 to 2 1⁄2 times the distance of the width of a horizontally projected image. (This usually eliminates concerns about seeing actual pixels.) in the early days of projected image judging, clubs would fill a wall with the image, and then the judges would be 3 feet ways from the image, and all they saw were enlarged pixels.
3. What is the expected time frame for receiving Interclub competition results?
Because of meeting schedules, clubs are given one month to complete the judging from closing. But then the results have to be sent to the Director, where the information is checked for accuracy, and disseminated to the clubs, which is usually about one month after closing, but can take longer if problems develop. By the time the winning images are gathered, reduced for web display and sent to the web master to then be posted, it means the images may not appear until 2 months after closing. Most of the time, images will be posted about a month after the closing date.
4. How much time should be allowed for Interclub winning images to appear on the PSA website?
See above.
5. What is the image analysis criteria for the Interclub competition scores? Member comment: "The score number means nothing to me if I don't receive a critique as to why it was given a specific number, without a critique that explains the rating what is the point of continuing to enter images in the competitions?"
These are run like exhibitions, except the titles are read. In other words, the judges do not have time to provide critiques, which would have to be recorded so that the information was available to clubs. These are just scored, and then sorted for honors. Hopefully, your club allows time when judging or selecting the images originally to provide the critiques. The new Guidelines that will soon be downloadable will briefly explain the scoring system, and the Host Club Guidelines provided to the host club explain what is expected in the 1-5 scoring range. Like any judging experience, the results will vary, depending on the judges used. If a club member needs critiques, I would suggest joining PSA (if not already a member) and joining a PSA study group for feedback (and learning) on their images. This is actually a good selling point for belonging to PSA.
6. If PSA is for all levels of photographers, amateur and professional, how can an amateur realistically compete against professionals in the Interclub competitions?
From my many years of experience, professionals do not really have an advantage over avid amateurs. We have had both, as well as beginners, in my local club, and there is no big advantage for pros. During my years of running PID Interclub, I saw a couple of "super" clubs compete, whose members were all big ROPA winners, and even those did not always come out on top.
——————-
Wednesday, June 14 at 7:00 pm (6:30 social time)
Evergreen Fire and Rescue
1802 Bergen Parkway, Evergreen, CO
Pre-meeting Dinner 5:30 pm at
The Woodceller
1552 Bergen Parkway #101
Are you a PSA member? PSA, or Photographic Society of America (not to be confused with public service announcement, or prostate specific antigen), has numerous member benefits for clubs and individuals. Evergreen Camera Club has an organizational PSA membership. PSA Colorado Membership Director Tammy Hammond will untangle and examine all of the invaluable details needed to utilize the ECC membership or join PSA as an individual at our August 14th meeting at 7:00 pm (come early to socialize or see poster or www.evergreencameraclub.com for new dinner location details) at the Evergreen Fire & Rescue Building, 1802 Bergen Parkway, Evergreen.