April 8th General Meeting with Ellen Nelson:
BACKYARD WILDLIFE PHOTOGRAPHY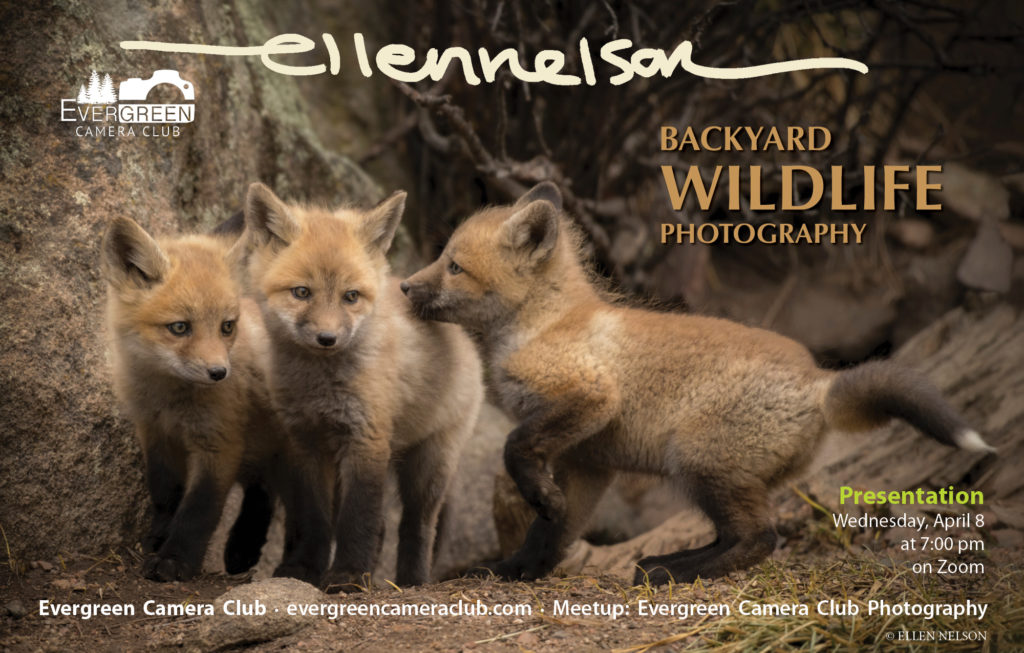 Special Web Meeting Using ZOOM – NOT AT Evergreen Fire and Rescue
Wednesday, April 8 at 7:00 pm ( – aka social time)
Keep shooting! Even though we are all quarantined, we can still continue to keep busy with our cameras. Take this unusual downtime to grow and enhance your skills. Professional photographer Ellen Nelson will offer some strategies and suggestions to photograph wildlife and nature in your own backyard, wherever your location. She will also offer tips for reviewing your past images to understand what makes a good wildlife photo and separate the zeroes from the heroes. Join Ellen Nelson for Evergreen Camera Club's first remote meeting via zoom on April 8th at 7:00 pm (join early to socialize).
If you haven't Zoomed yet, it is free and easy from any phone, tablet or computer. We recommend you start signing on at 6:30 to work out kinks unless you've zoomed on your platform. The link to get you started will be in an email sent to all paid members of record. If you didn't get the invite or want to join as a visitor, please sent a request email to webmaster@evergreencameraclub.com
NOTE: No Competition this month – save your pictures for next month as posted in competitions here.