September T&T: Basic Photography with Ellen Nelson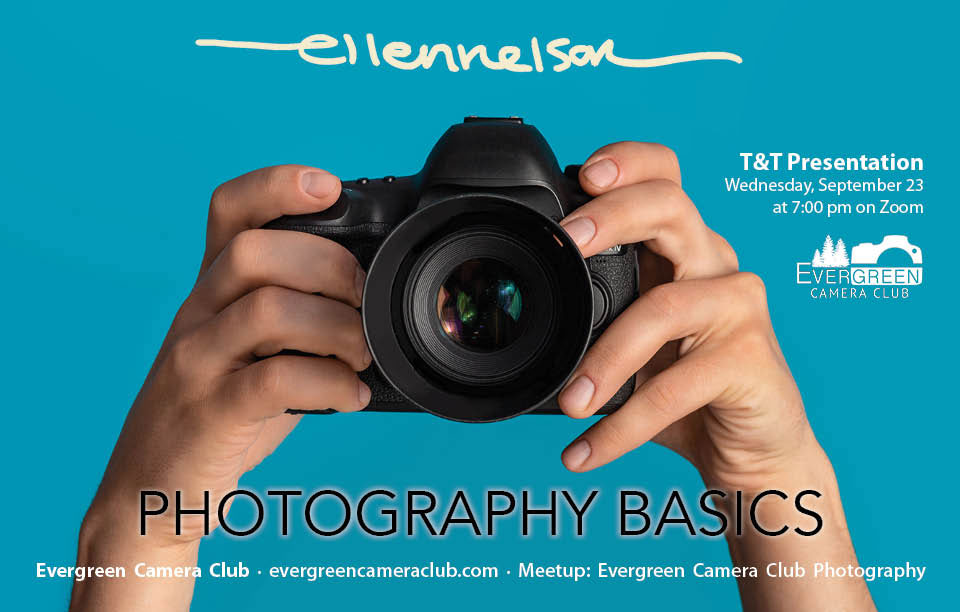 It's time to get back to the basics of photography. Understand what it means to open up or stop down, when to stop action, when to allow your subject to blur and why. Learn which lens is best for each occasion and that ISO does not mean "In Search Of." Whether you are new to photography or have been shooting for a while, you'll learn some new techniques in this informative and entertaining Tips & Techniques presentation. Keep your camera handy so that you can follow along.
Join Evergreen Camera Club via Zoom:
Wednesday, September 23rd
6:30 pm social time and announcements
7:00 pm start of presentation
Zoom Link:
https://us02web.zoom.us/j/87252545799?pwd=cVU5TFFzNmFNVWRHZi9rTlpObVJ6Zz09
About Ellen
Ellen Nelson has been a professional photographer most of her life, living in Evergreen and Clear Creek County. She has worked as a university photographer, photojournalist, portrait photographer and freelance photographer, shooting for Time, Ms., and numerous newspapers and Colorado magazines, including Colorado Serenity and Colorado Life. She recently completed her Certified Professional Photographer (CPP) requirements, a prestigious designation achieved by only 2500 photographers worldwide, and earned a bronze medal in the 2019 International Photographic Competition. Connect with her on Instagram and Facebook: @ellennelsonphoto, ellen@ellennelson.com or www.ellennelson.com.