ECC Virtual Holiday Party and Contest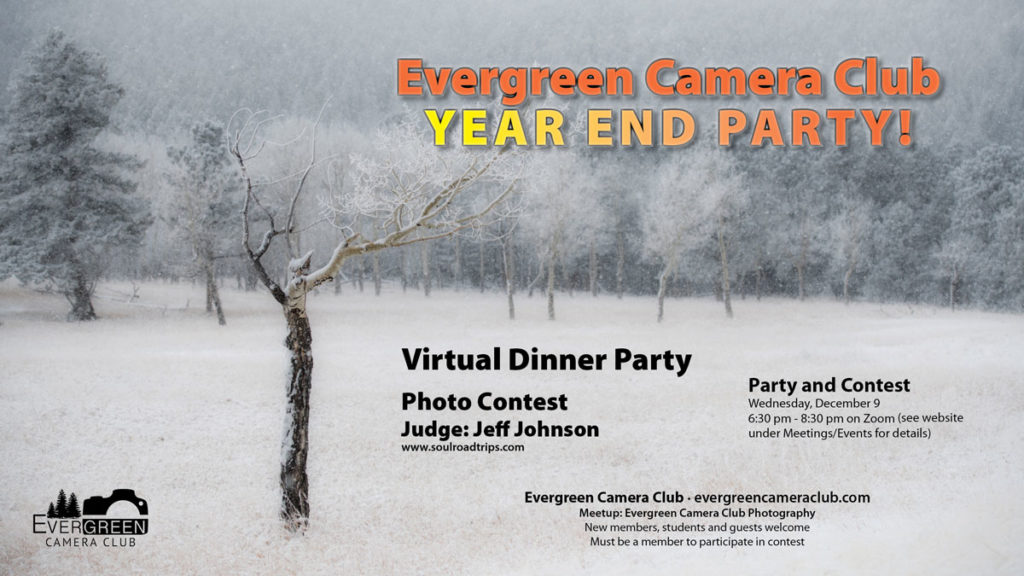 SAVE THE DATE
Evergreen Camera Club is having a virtual holiday party!
Get your holiday hats on and your images ready for the photo contest! We are preparing a virtual, year-end party!
Zoom in at 6:30 pm and have your favorite drink ready to celebrate during the 6:30 to 7:00 Happy Half Hour!
 Time: Wednesday, December 9 at 6:30 – 7:00pm Cocktails and Party
7:00 – 8:30 pm Contest
Location: Your home via Zoom.
Dinner: Is up to you, however, we suggest that you order takeout from Murphy's Grill in downtown Evergreen. We have given them a heads up that club members may be ordering for a 5:30 to 6:00 pickup!
Drinks: Whatever you have in the fridge or liquor cabinet.
Photo Contest: Judged by Jeff Johnson
Enter three photos (maximum) per person as a beginner or advanced photographer.
Submit your entries by logging onto www.evergreencameraclub.com and uploading on the "Contest Entry" page. You must select the subject category radio button for each image you upload.  It is best to have a meaningful name for your images as well.
Choose any of the four subject categories:
People
Landscape/Scenery
Animals/Wildlife
Miscellaneous
Entries must be submitted by 6:00 pm Monday, December 7 – we've added an extra day: Tuesday, December 8.
Submitter must be an ECC member in good standing and in attendance to win.
Prizes: Awarded in each category, Best Image of the Year and Best Image of the Year Runner-Up, Beginner (if there are enough entries) and Advanced.
One More Thing: Keep an eye out for a "Finally Back in Person Picnic" next summer!
Zoom Link: https://us02web.zoom.us/j/88558280067?pwd=VThYSnZuTzBaODNwUGpBMlcrRU14Zz09