January 13th General Meeting: Constructive Image Critique and Review with Nic Stover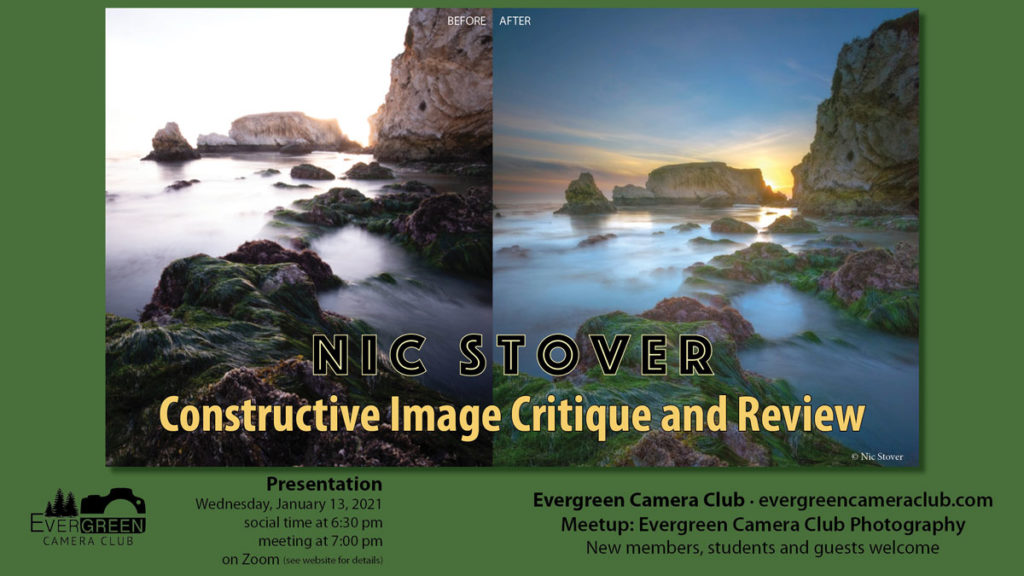 Can your photos be even better? Submit and find out! Professional landscape photographer Nic Stover will conduct a demonstration showing how to edit your images in Lightroom to create even greater impact.
Nic will demonstrate minor modifications in Lightroom while highlighting the times you might want to use Photoshop. If you wish to have Nic use your photo in the demo, submit your images by using our special upload page at:
https://evergreencameraclub.com/index.php/january-2021-upload-page/ or email them to nic@stoverphoto.com by Tuesday, January 12th.
Submissions can be anonymous, and each image review will be tailored to the image submission and where the photographer appears to be in their creative journey. The most impactful and compelling images are those that have the proper balance of Technique, Vision, and Processing. Nic's goal is not to shame anyone, but rather talk about his own journey and the process used to look at his own images.
Evergreen Camera Club is continuing our popular Zoom meeting format, so join ECC on:
Wednesday, January 13th
6:30 pm social time
7:00 pm announcements and presentation
The Zoom link for this event is:
https://us02web.zoom.us/j/81435398826?pwd=QUNNVnM1SVFISUw3b1FEM3I3VVp1Zz09