Fine Art Dog Portraits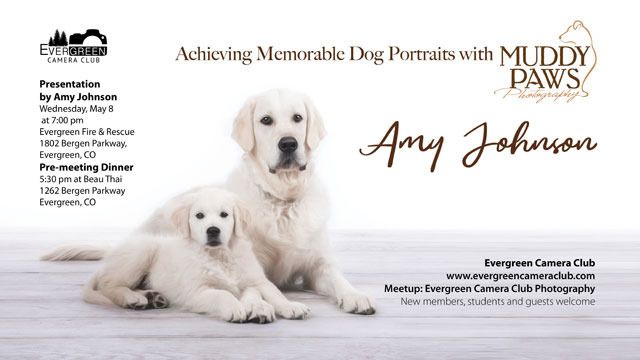 AMY JOHNSON
FINE ART DOG PORTRAITS
Dog snapshots may be OK for most, but a fine art dog portrait can really give you "paws" for consideration. Conifer photographer Amy Johnson of Muddy Paws Photography (www.muddypawsphotos.com) specializes in fine art dog photography and will give you a leg up on this dog-eat-dog business that is sure to be a treat.
Doors open at 6:30 pm for social time. Presentation begins at 7:00 pm. Members, guests, and students welcome!
Or join us at 5:30 at Beau Thai for dinner with the speaker and other ECC members. Sign up on a separate Meetup posting.
Venue
Evergreen Fire & Rescue
1802 Bergen Parkway
Evergreen, CO, US