Fine Art Portraiture-Using Textures to Create Drama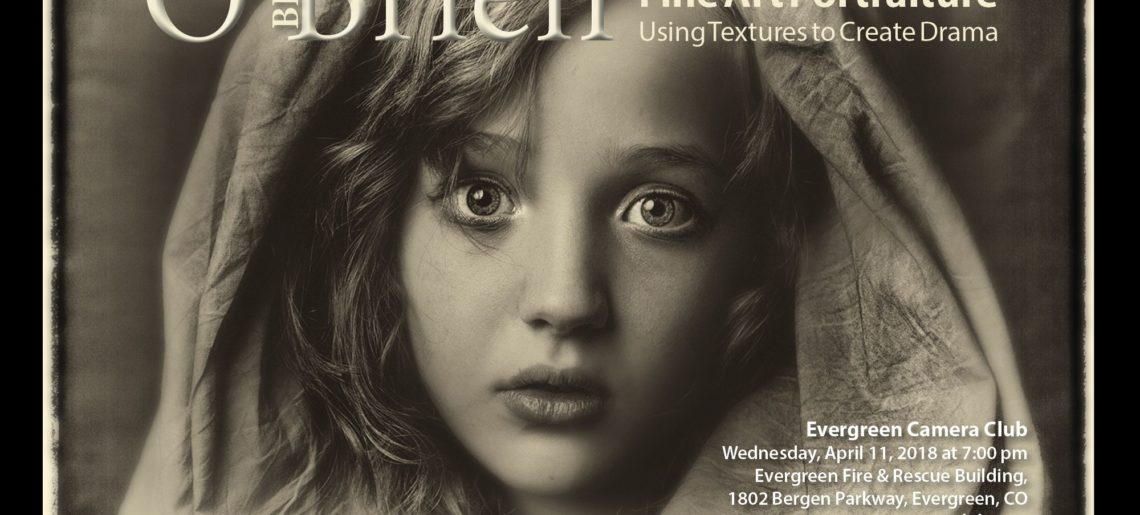 Add drama and texture to your portraits! Bill O'Brien will walk us through his process of using textures to create a sense of timelessness to your portraits and images.
Bill is a digital artist with a focus on portraiture and landscape photography based out Aurora, Colorado. He's a classically trained (non-digital) graphic artist and self-taught photographer and digital artist. His painterly and surrealist style of portraiture is steeped with characters that are ethereal and timeless. With each series, he aspires to push his style rather than duplicate it.
Following the main presentation, Bill will be the judge for our monthly critique and contest (anonymous entries unless/until you win). This month's theme is "Black & White". Our rotating theme this month is "Landscapes". See instructions for submitting entries at www.evergreencameraclub.com.
Doors open at 6:30 pm for social time. Program begins at 7 pm.
Venue
Evergreen Fire & Rescue
1802 Bergen Parkway
Evergreen, CO, US