Jeff Johnson: The Creative Edge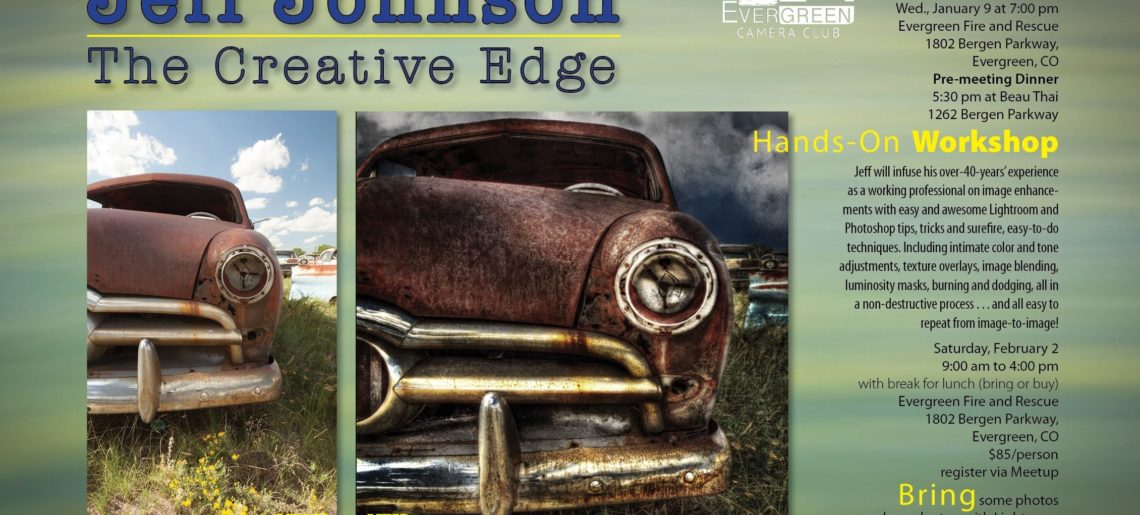 Evergreen Camera Club is kicking off the new year with a sure-to-be-impressive presentation, "The Creative Edge" by Jeff Johnson. Jeff promises to infuse his over-40-years' experience as a working professional on image enhancements with easy and awesome Lightroom and Photoshop tips, tricks and surefire, easy-to-do techniques. Including intimate color and tone adjustments, texture overlays, image blending, luminosity masks, burning and dodging, all in a non-destructive process . . . and all easy to repeat from image-to-image!
Join us for the January 9th Evergreen Camera Club meeting, at 7:00 pm (come early to socialize or see Meetup for dinner details) at the Evergreen Fire & Rescue Building, 1802 Bergen Parkway, Evergreen. Visitors, guests and students are encouraged to attend. And if you like the presentation, come to Jeff's all day, hands-on workshop on February 2 for a deeper dive into these techniques.
Visitors, guests and students are encouraged to attend. Doors open 6:30.
Members, remember to submit photos for the monthly critique and contest by Monday before the meeting. NOTE: IMAGES ARE NOW ABLE TO BE UPLOADED ON THE WEBSITE. DUES MUST BE PAID BEFORE UPLOADS ARE ACCEPTED. Details are at www.evergreencameraclub.com
We will have a pre-dinner meeting at Beau Thai in Evergreen at 5:30 pm. RSVP separately on Meetup.
Venue
Evergreen Fire & Rescue
1802 Bergen Parkway
Evergreen, CO, US